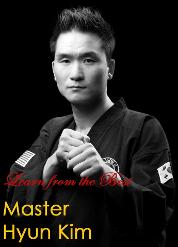 Learn from the Best Train with the Best
Master Hyun Kim started his Martial Arts studies at the age of four, and since that time has dedicated his life to learning and teaching the Taekwondo way. He attended Yong In University in Korea, where he continued his martial arts career as captain of the team at one of the world's leading martial arts universities. Since Master Kim began his career as an instructor in 1996, he has been devoted to sharing his passion for Martial Arts with his students and helping them to achieve their dreams, including guiding them to be National Team members.
Now, with over 30 years of experience, Master Kim is committed to bringing the highest quality of Martial Arts training to you and your family. We are waiting for you! Over the course of his career, Master Kim has had many great and outstanding achievements reflecting his passion dedication to Taekwondo. Some of his accomplishments include:
Taekwondo 6 degree
Judo 5 Degree
Hapkido 4 Degree
B.S. Degree in Physical Education from Yong In University
M.A. Degree in Physical Education from Kook-Min University
2001 & 2011 USA Presidential Award
Certified Teakwondo International Referee
Over 35 years Experience of Martial Arts
Over 20 years Experience of Teaching Martial Arts.